TECTA preserving the Soul of Bauhaus Design
The name Tecta connotes technology and, more generally, the Greek concept of techne: things conceived, made possible and created by man, offering benefits both physical and spiritual. The company produces essential modern design, but it is not just a manufacturer: it discovers, invents, explains, mediates, excites, and breathes new life into material things. Its products show that modernism began not with Art Nouveau, but much earlier, in the Prussian classicism of Karl Friedrich Schinkel, whose cast-iron garden seat influenced the structure of Ludwig Mies van der Rohe's Barcelona chair.

Description
We are in the arcanum of modernism. The F51 (1920) is not just any armchair, it is the iconic armchair for the director's room in the Weimar Bauhaus. Walter Gropius had already injected his modernist dynamic into the building and created a small holistic work of art, encompassing interiors and furniture, tapestry and ceiling lamp. Nothing is randomly chosen and everything is connected. If you study the isometric layout of the director's room you can see the furniture as part of a three-dimensional coordinate system.

All major designers, including Mart Stam, have walked through this central room of the Bauhaus in Weimar. Consciously or unconsciously, they were already influenced by the overarching ideas of the F51 armchair. Its protruding armrests can be seen as a precursor of Mart Stam's chairs without back legs and anticipate Marcel Breuer's stool on runners (1925).

"The first cantilever chair concept is from Walter Gropius, the first cantilever armrest architecture from El Lissitzky," says Tecta's Axel Bruchhäuser. Walter Gropius' own thoughts: The goal of modern architecture is "to defy gravity and overcome the earth's inertia in impression and appearance." This later became the intellectual root of the cantilever principle and the creed of the collection in Tecta's Cantilever Chair Museum in Lauenförde.

Despite its cubic form, the chair has an almost human appearance with its heavy but floating upholstery and simple frame. With the F51 Gropius has made a piece of space around us tangible and given it a geometric shape. It seems as if the architect had intermeshed two C-shaped elements in such a way that they continue to convey suspense. The projecting frame lifts the back of the seat and armrest upholstery away from the floor. Calm and dynamism – the armchair radiates both simultaneously and thus points to the architect's future-forward design approach, which radically questioned all things traditional.

In 1926 Gropius wrote emphatically in his "Principles of Bauhaus Production": "It is only through constant contact with constantly evolving techniques, with the discovery of new materials and with new ways of putting things together that the creative individual can learn to bring the design of objects into a living relationship with tradition." The intricately crafted F51 armchair is a case in point. Existing elements are reinterpreted and the construction, the "crafted" elements are openly revealed.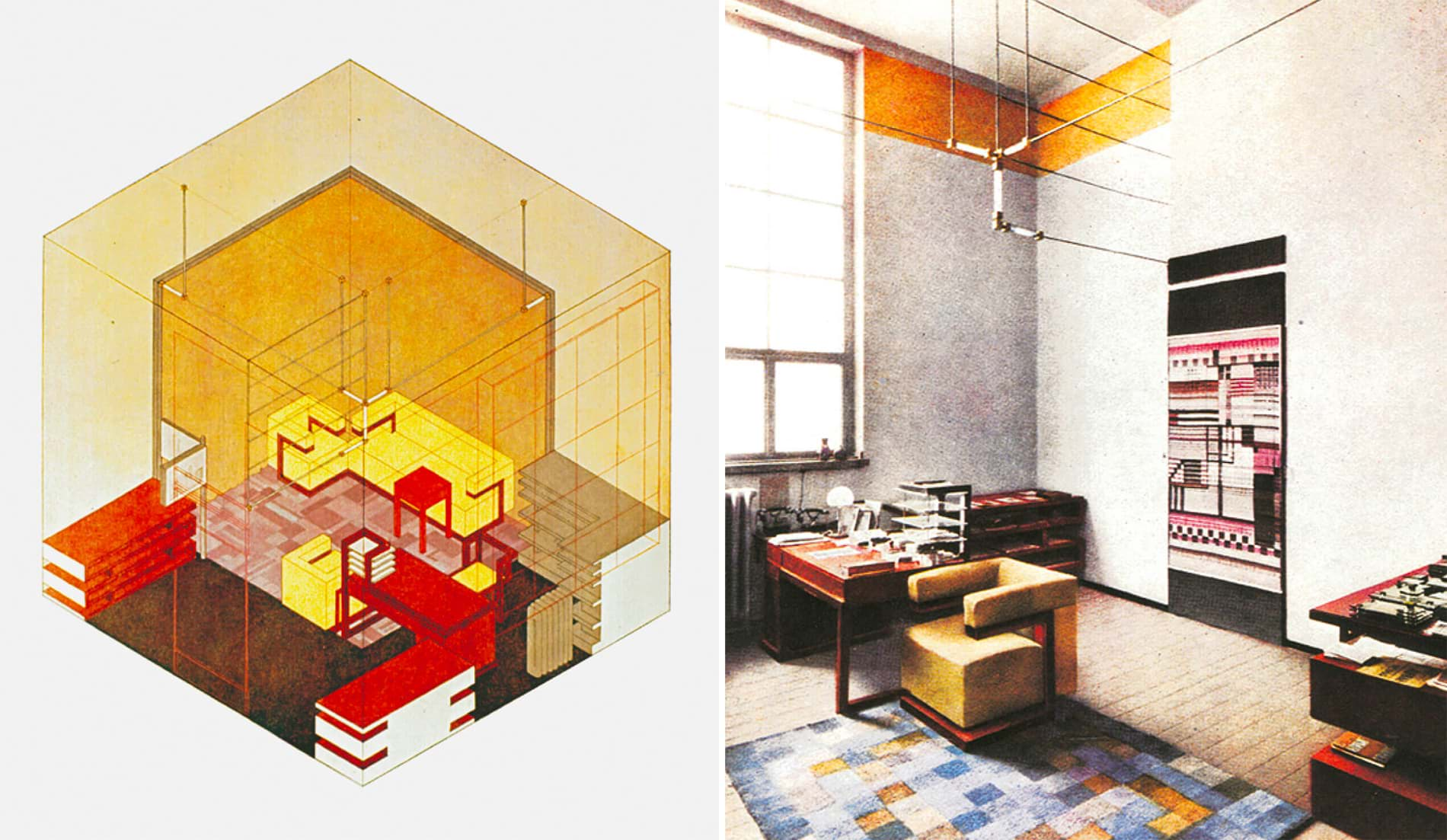 The man who wrote the rules. After first enrolling to study architecture at the Technical University of Munich, Walter Gropius continued his studies at the University of Charlottenburg-Berlin, which he left in 1908 without completing his diploma. Gropius joined the office of Peter Behrens in the same year, where he worked alongside a number of architects who would become luminaries in their profession, including Ludwig Mies van der Rohe, Le Corbusier, and Dietrich Marcks.

After working for Behrens for two years, Gropius established his own practice for architecture and industrial design in 1910. His output in this period included wallpapers, mass-produced interior furnishings, car bodies and even a diesel locomotive.

The Fagus Factory in Alfeld an der Leine, which he designed together with Adolf Meyer, would be his first major architectural work. With its transparent façade of steel and glass, this factory building is widely held to be a pioneering work of what later became known as »Modern Architecture« evolving eventually in the 1920s into the »Neues Bauen« or »New Objectivity« movement. The Fagus Factory was awarded UNESCO World Heritage status in June 2011.

After the First World War Gropius became a founding member of the Bauhaus: in 1919 he succeeded Henry van de Veldes as the Director of the Großherzoglich-Sächsischen Hochschule für Bildende Kunst in Weimar (Thuringia) and renamed the institute »Staatliches Bauhaus in Weimar«. Gropius held the office of Director in Weimar until 1926 and subsequently in Dessau. He was succeeded by Ludwig Mies van der Rohe, who directed the Bauhaus until its closure in 1933. Gropius immigrated to England in 1934, following a smear campaign by the Nazis, who branded the Bauhaus a »Church of Marxism«. In 1937 he relocated to Cambridge, USA, where he served as a professor of architecture at Harvard University's Graduate School of Design.
---